Fiber Mates at Salone Satellite
Salone del Mobile. Milano
SaloneSatellite
17 - 22 April, 2018
Rho Fiera, Milano (IT)
Booth C24 / D25
Perspectives for Fiber Manufacturing
Collaboration with Laura Jungmann, Jonathan Radetz and Martha Schwindling.

Fiber Injection Molding (FIM) is a new manufacturing process developed by the German company Fiber Engineering. The method is based on the heating and compression of loose fibers from recyclables like shredded plastic bottles to natural materials like wool into three-dimensional shapes.
At Salone Satellite the four designers are presenting a series of seating elements and room dividers that reflect their preoccupation with modularity and materiality. The designs illustrate the potential of pressed fibers as a resource for the furniture industry.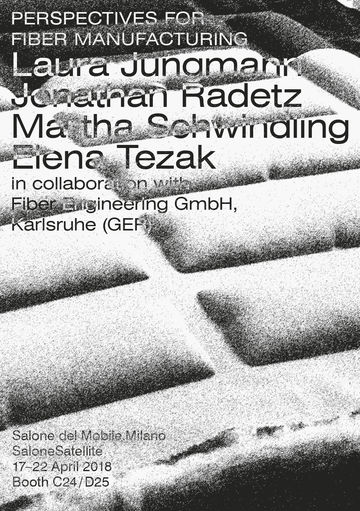 Good Thing You're Here
Pop Up Shop
9 - 18 December 2016
Torstr 161, Berlin (DE)
Good Thing You're Here is a temporary store I organized and curated with Martha Schwindling. It was open for 10 days in Berlin, Mitte, and brought together 22 young design studios and labels, to show and sell selected products.
Participating studios and labels: ABC Plates Berlin, Anna Badur, Anna Diekmann, C-KL, Elena Tezak, Exoterika, FLAT, Gompf+Kehrer, Jonathan Radetz, Krupka-Stieghan, Pattern Studio, Caterina Plenzick, Peter Schäfer, R.EH, reinheft, SAMESAME upcycled glass products, SCHMIDTTAKAHASHI, Studio ESNAF, Tanja Schuez, Thomas Schnur, Tina Schmid and Esther Zahn.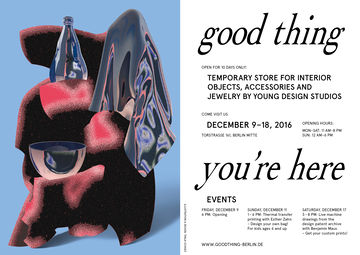 Material Effects
Exhibition
2 0ctober 2016 - 18 January 2017
Industriemuseum, Zwickauer Straße 119, Chemnitz (DE)
The Interlude Wall Light is nominated and on display for the sixth Marianne Brandt Competition.
With its focus on material effects, the sixth International Marianne Brandt Contest continues the search it began in 2000 for The Poetry of the Functional. The exhibition explores material-sensitive products and imagery, likewise projects and experimental designs dealing with the derivation, history and characteristics of materials; these might be concepts that perhaps question in a social and aesthetic context the sustainability of a design and thus support the planning of new perspectives of behavior and action. Patricipating designers include: Anastasiya Koshcheeva, Anna Badur, Birgit Severin, Chuana Mahlendorf, Elena Tezak, Helene Bierstedt, Henrienne Ackermann, Jonathan Radetz, Kristin Dolz, Katrin Krupka, Marcel Pasternak, Maria Braun, Maximilian Behrens, Paula van Brummelen, Sarah Bräuner, Simon Busse, Tim Mackerodt, Wassilij Grod, and others.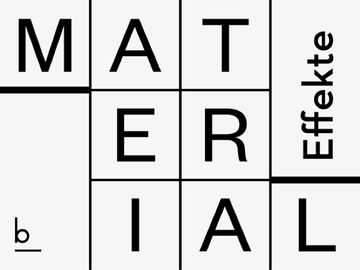 Past, in Each of Its Moments, be Citable -
On Walter Benjamin's Concept of History in the City of Istanbul
Exhibition
28 May - 17 July 2016
DEPO / Tütün Deposu, Lüleci Hendek Caddesi No.12, Tophane, İstanbul (TR)
The exhibition project Past, in Each of Its Moments, be Citable - On Walter Benjamin's Concept of History in the City of Istanbul invites six Turkish and five German artists to read, transform and address Walter Benjamin's theses On the Concept of History in the city of Istanbul.
The participating artists all search for hidden fragments in the city, the seemingly marginal and neglected. As 'urban physiognomists', they cite personal history and histories in constellation with generic traditional history, investigating individual and social needs for identity and consumption, craft, automatic production and the urban infrastructure of Istanbul today.
The project is initiated by Patrizia Bach. Participating artists are: Sezgi Abalı, Patrizia Bach, Doğu Çankaya, Juliane Eirich, Benjamin Maus, Lara Ögel, Neriman Polat, Çağrı Saray, Elena Tezak, Andreas Töpfer and Bilal Yılmaz.
The exhibition is accompanied by a day of artist talks, project presentations and an academic panel discussing the contemporaneity of Walter Benjamin's work in the city of Istanbul. In this context I am inviting the initiator of the Made in Şişhane network Aslı Kıyak İngin to discuss the role of local craft establishments for Istanbul's design and production infrastructure, as well as strategies to make use of its potential.