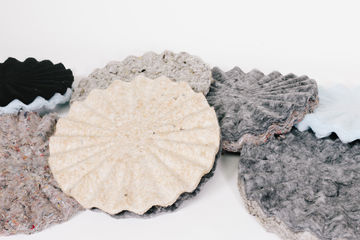 Material design project in collaboration with Laura Jungmann, Jonathan Radetz and Martha Schwindling
2018
In this project we made use of an interesting, new production process developed and patented by the German company Fiber Engineering: Any kind of fiber –from textile threads and shredded plastic bottles to natural fibers like wool, hemp or wood– can be mixed with a thermoplastic bonding fiber and blown into a mold, where it gets heated and pressed into the final 3D shape. This process can be used to upcycle industrial scraps or waste and to replace energy-intensive and toxic PU foam processing. Besides the environmental advantages it is also highly efficient in the use of raw material and it doesn't require pre-products in the shape of mats or blocks. All leftover fibers can be reused, and already pressed forms can be torn again and reused for the process. The production method further allows for complex variations of density and shape in a single part.
Together we developed a series of seating elements and room dividers that illustrate the potential of pressed fibers as a resource for the furniture industry while further reflecting our interest in modularity and materiality.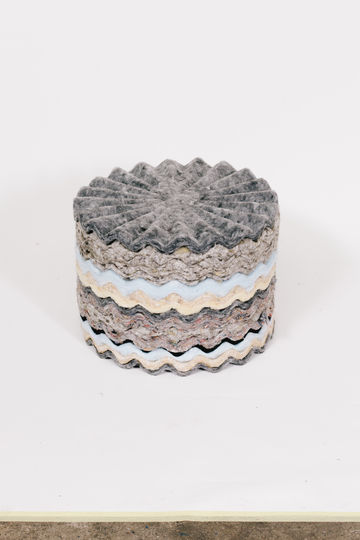 Ripple Cushions made from recycled polyester, PET-bottles, wool and hemp fibers

Ripple Cushions
Design by Laura Jungmann, Jonathan Radetz, Martha Schwindling and Elena Tezak
Recycled PET, recycled polyester, recycled wool and hemp.

The Ripple Cushions are stackable in many layers. Due to the rippled surface relief, the single cushions interlock. They can be used as a low floor cushion or piled up as high as a regular stool. The prototypes are made from various fiber materials and illustrate a multiplicity of densities.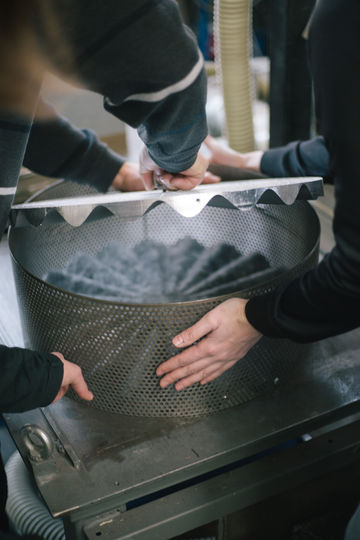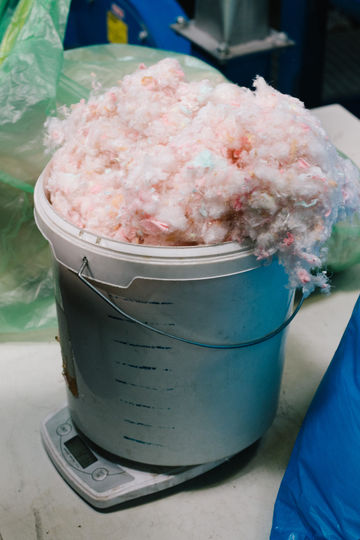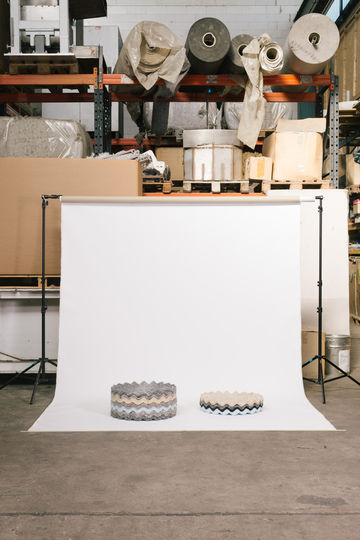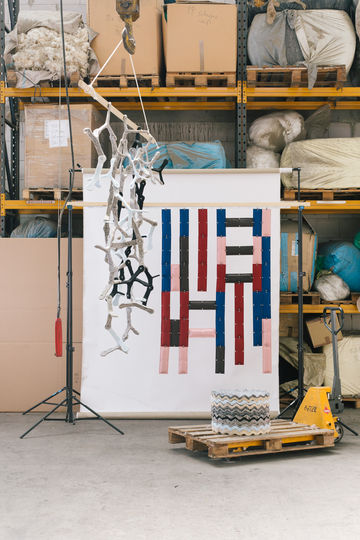 The three designs that emerged from the Fiber Mates project so far are the Tangle Screen, the Soft Screen and the Ripple Cushions
Soft Screen
Design by Martha Schwindling & Elena Tezak
Recycled polyester fibers, wool fabric
The Soft Screen modules are three-dimensional pillows that can be easily assembled into loose, open structures, or closed surfaces that make for effective, acoustic room dividers. Recycled polyester fibers are laminated with different color fabrics on each side. Manifold layouts are possible in the composition of this versatile screen.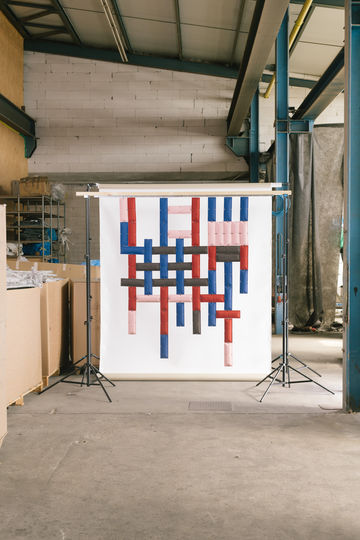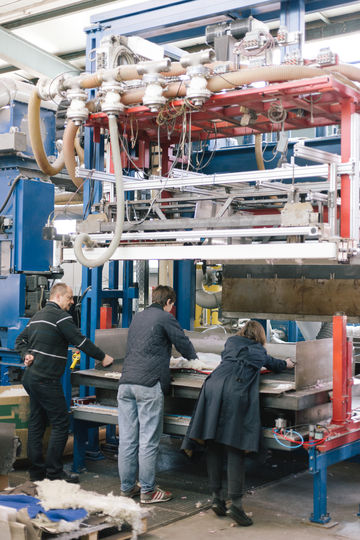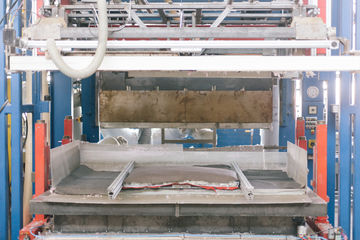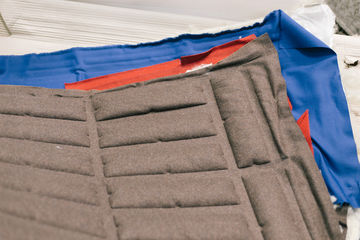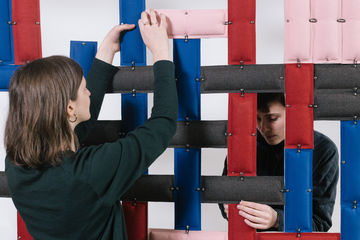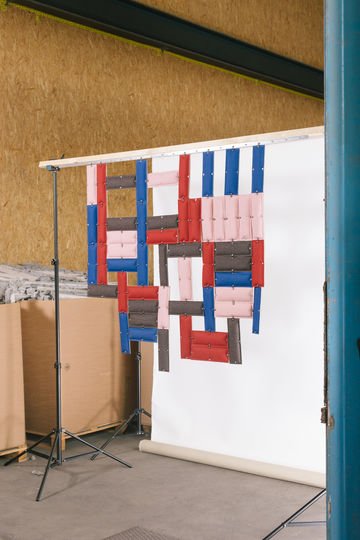 Tangle Screen
Design by Laura Jungmann & Jonathan Radetz
Recycled PET bottles, recycled wool and polyester fibers
The Tangle Screen appears as an organic structure that can grow in every direction. The single modules, made from recycled PET and wool fibers, are slightly flexible and can be connected at three points into a dynamic, three-dimensional, open network.